topfiberbox
Due to its small size, The LC connector is the mainstream fiber optic connector and is widely used in optical communication networks, data networks and cable television networks. In the daily application environment, LC duplex connector uses more often because of its cabling space-saving. LC duplex fiber optic connector is two simplex LC connectors encased in a common housing. Compared with LC simplex connector, the duplex connector can reduce the installation steps and save time and money as well.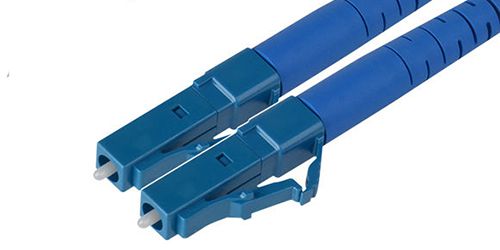 As shown in the above image, the design of this two-core connector has two advantages, one is the longer clip and another is the lower clip. The extended longer latch on top of the connector body makes it easier to disengage from the adapter, even in high-density packaging. If you have the experience of releasing LC duplex connectors in patch panels in high-density cabling, you may know why this is important. Because in the cabling case, thumbs and forefingers are not ideally suitable to operate the release lever and pulling the connector. The handle portion of a conventional duplex connector will be slightly higher than the adapter, which will take up more space during the cabling installation. The lower clip design of this LC duplex connector can save more space. In the high-density environment of the data center, the space saved by multiple connectors is combined to have a great advantage.
With the rapid application of 5G, how to provide a high-density, low-cost, easy-to-manage, and highly reliable network cabling system for data centers has become an increasingly important requirement. The LC duplex fiber optic connector is a high-reliability, low-cost, high-density cabling solution.