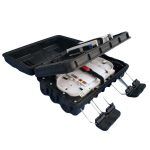 72 Core Inline Fiber Optic Splice Closure Use as Optical Cable Distribution Box
$22.90
2 input 2 output, Plastic, 72 Fibers
Model: HSC06
Advanced internal structure design, protection level up to IP65
Suitable for bunchy & ribbon fibers
Enough space for winding and storing fibers
Easy to open without a special tool
Reliable sealing capability
Description
This in line fiber optic splice closure can be used as cable distribution box that used for optical splitting, fiber splicing, cable joint and distribution. It suits the cable distribution of optical communication equipment. The box has 2 ports on both ends and there is a removable plate with 16 exit points for the connection of pigtail and splitter, and it can provide different cable solutions for users.
As a cable distribution box, it can achieve optical cable distribution through connecting internal adapter with drop cable to lead out the optical signal, also applies to the protective connection of cables and pigtails; The enclosure has a unique 3-layer structure, upper for splitting and distribution, The middle for splicing and wiring, The lower for fiber storage; the upper layer plate can be flipped up ≥180 which is convenient to install and maintain. can achieve direct or branch cable connection. The box allows the installation of up to 16 assemblies, can hold 24 core fusion splices.
When taking out the upper plate, the enclosure can be used as in line splice closure; it is used for direct and branch connection during optical fiber transmission and provides cable joint connection protection. The inline closure can install 3 splice trays for 72 fiber splice.
Features:
1.Formed in plastic with high mechanical resistance
2. can accommodate 2 pcs 1×8 cassette type or steel tube type plc splitter
3. Anti-UV, impact-resistant, and waterproof;
4. Cable can access the fiber optic joint box without breaking.

Technical index:
1. Fiber radius of curvature:≥40mm
2. Optical disk additional loss: ≤0.01dB
3. Temperature Range: – 40°C ~ +60°C
4. Anti lateral pressure: ≥2000N / 10cm
5. Shock resistance:≥20N.m
6. Protective grade: IP65
Specification
Item
Size

(mm)

Cable Dia

(mm)

Cable Port
Splitter
QTY of Splice tray
Max Capacity
Fiber Distribution Box
290*190*110
Φ7-18
4/16
1:16(1pc)

1:8(2pc)

1
24 (Single)
Item
Size

(mm)

Cable Dia

(mm)

Cable Port
Splice Tray Capacity
QTY
Max Capacity
Sealing type
Inline fiber optic splice closure
290*190*90
Φ7-18
2 In 2 Out
24(single)
3
72 (single)

Silicone rubber